Quantum photocatalytic coating air purification technology features?
1.Quantum level photocatalytic coating has strong decomposition and removal effect on formaldehyde, benzene, ammonia, TVOC and other organic pollutants that affect human health.
2.Quantum-level photocatalytic coating can kill more than 90% of viruses such as cold virus, and the removal rate of volatile organic compounds can reach 89.8%. It can effectively remove Pm2.5 and Pm10 in the air to achieve the effect of sterilization and haze removal.
3.The quantum level photocatalytic coating is water-soluble coating. Photocatalyst photocatalytic titanium dioxide can be used as a non-toxic food additive, which is different from general disinfectants.
4.The traditional photocatalytic oxidation technology is under the action of ultraviolet light to make organic pollutants oxidative degradation reaction. The full spectrum photocatalytic oxidation technology developed by our company adopts the photocatalytic oxidation and degradation reaction of quantum-level TiO2 under the action of ultraviolet, visible and infrared light.
When will the quantum photocatalytic coating start to take effect after coating?
Natural drying, coating maintenance 7 days later put into use; Forced drying, coating can be put into use. After drying, a purification film is formed, which can thoroughly decompose harmful substances 360°, sterilize and disinfect for a long time.
How long will quantum photocatalytic coating air purification technology last?
Quantum photocatalytic coating used in visible light catalyst consumption, long-term effective, coating design life can reach more than 10 years, persistence is more than 60%, the purifying effect of air environmental governance should be fully considered when the personnel flow, service life, coating area matching of persistence and purifying effect, effect decreased filling besmear can at any time, will not affect the painting.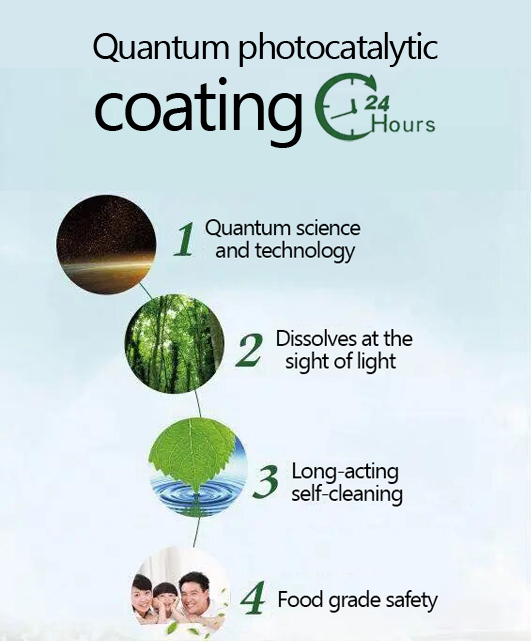 ---
Post time: Jul-14-2022